I have just returned from an amazing and adventurous dive trip with Emperor Divers to Banda Sea in Indonesia.
My friend Karl Engkvist did take this photo
To get to our point of departure may take several flights and frequent delays so to make sure I would be there on time, I decided to arrive in Ambon two days early use the time for some local diving. However, my hotel "Natsepa" was perhaps not the best decision and I did not find them particularly helpful. First they missed the prearranged pick up from the airport so I had to organize a local taxi myself, but more importantly they did not pass on the messages sent by Emperor Divers. That could have caused both some distress and confusion and potential delays. If you go to stay in Ambon, I would likely suggest picking somewhere else to stay.
Our boat "Raja Laut " is a 100 ft long sailing boat, very comfortable and nice with plenty of social areas, cabins with bathrooms, sun deck etc. We were setting off for 7 days of diving in the Banda Sea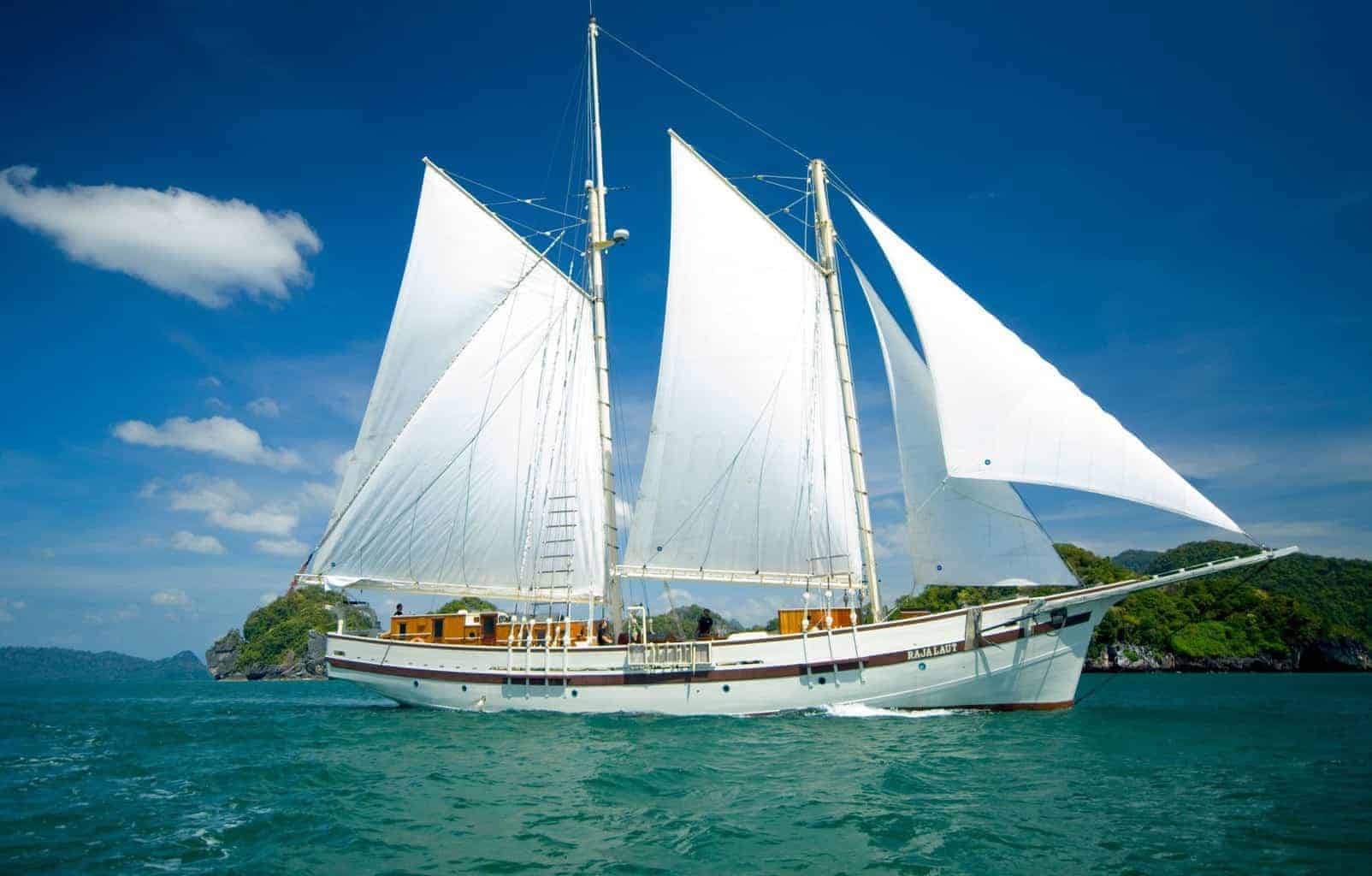 A typical day during this trip looked like this:
You wake at 6.30 am for a light breakfast comprising, coffee, tea, juice, bread and cereal.
At 7.00 am it was a dive briefing for the first dive of the day. The dive crew talked us through what the dive site looked like before we jumped into the water and how we were going to make this dive, such as depth and times under the water for example max 30 meters depth and 60 min duration, and a reminder not to forget the safety stop at 5 meter for 3 minutes at the end of the dive. We also talked through the different dive hand signs we would use so that we could understand each other under the water. Many divers use similar hand signs but there are also differences so it is good that we are all using the same signs. We were also briefed on what to look out for and what was possible to see at that particular dive ( for me it is good to know this a day before so I can prepare the correct camera lens and not get into the water prepared for micro photography and run into a whale shark ?. After that it is time for the first dive of the day.
8.30 am, we are back on the boat and it is time for a real breakfast, coffee, tea, juice, egg, bacon, fruit salad and cereal. The breakfasts were really good (like the rest of the food) also various types of eggs like omelets, scrambled or fried.
At 10.00 am it is time for the next dive briefing again and we got into the water for the second dive.
At 12.00 noon, it is time for lunch. For lunch there was a selection of three dishes, one meat, one fish and one vegetarian plus e.g. potatoes, pasta, salad, vegetables and always fruit and dessert. Nice
At 2 pm, it is dive briefing number 3, followed by dive number 3.
At 4 pm, it is time for snacks, this could be some kind of pancake or freshly made doughnuts or a cake.
At 6 pm is the last dive briefing for when there was a night dive
At 8 pm we had dinner. This was a buffet, where you could chose between plenty of fish, meat and vegetables and of course, always fresh fruit.
For me the quality, variability and taste of the food is very important to feel good.,The food on this boat was great and much better than what I had at the restaurants I tried before setting off on the boat So that is generally what our days looked like.
So how about the diving? Any good? Of course it was, it was fantastic! I have never seen anything like it during my thousands of dives and it is so…untouched. Let me talk you through the dives we made.
We had about 29 degrees Centigrade in the water, and 30 degrees in the air. It is a little scary about this warm water, and it isn't good for the reefs at all. To illustrate this someone suggested you can compare that to ourselves, we should have a temperature around 37 degrees in our body, and imaging if our temperature goes up a couple of degrees, how do you feel? Not so well usually and it is a sign of something being not quite right.
We must starting to take more care about our nature, it is our responsibility which we have failed so far. This must change now, otherwise my photos will be just memories of what we once had.
Dive 1 & 2 Nusa Laut, Ameth Jetty, Amet Reef 25m/30m score 8
First dive was a Check dive, to make sure you know that you carry the right weights, and that your equipment are ok.
The best way to know that you have enough weight is have an almost empty tank at the surface and with an empty BCD (Buoyancy Control Device), when you breathe out all the air from you lungs and you begin to sink slowly, then you have perfect buoyancy.
It was a beautiful dive site, a wall dive. Most of ours dives during this trip was on dive sites that not so many divers have been to before us. Emperor requires all divers on board to have at least 50 dives before you come on this trip and also be an advanced diver at a minimum. This is a safety consideration that must be adhered to and there because some of the dives can be a little difficult for instance with strong currents. More experience also means that the divers should be good with their buoyancy, which is always important and also here so the diver don't touch anything that can damage, destroy/or kill any underwater life down there.
There are lots of fish in these waters! We saw Eagle ray, Napoleon, different types of Triggerfish, Boxfish, Bannerfish, Emperor Angelfish, longfin Bannerfish, Butterflyfish, Longfin spadefish, Anemonefish, Damselfish, lot of differences of Snappers, Big nose unicorn fish, different types of Sweetlips, Fusilier, Parrotfish, Hump head Wrasse, moray eels, Turtles, big Tunas, etc. Oh and I almost forgot, plenty of tremendously beautiful corals at this amazing dive site.
After that dive did we started to move over to Banda Island which was some way away. It took us 17 hours before we reached Banda early next morning. The Captain and his staff had been awake all night to get us there safely Banda Island comprise several volcanos and other smaller islands.
Dive 3 Al Island South West score 7
We saw a reef shark, Napoleon, triggerfish, octopus, Box fish, turtles, different kind of snappers, different types of Sweetlips and the coral were so big, the biggest I ever seen!
Dive 4 Gunung API, Lava flow. Score 9
Such a beautiful place, just under one a volcano that had its last outbreak in 1989 thereby the name of this dive site. It is amazing and fascinating how all this beautiful hard corals have started to grow on lava and how much it has grown in a relatively short timeframe. I have never see so much hard coral in my life, it was like big underwater fields with hard corals. It was 4 different sorts of hard coral standing side by side. We saw Napoleon, hard head Parrotfish, Boxfish, Triggerfish, big groupers, etc. It was a tremendously peaceful place down there and so beautiful. If you haven't yet been there then you must simply go there.
At this place, even the jump in the water is great. It is an amazing and near humbling experience to stand there, right in front of this magnificent volcano just before you jump in the water.
Dive 5 Banda Island, Pohon Miring a wall dive with current at 25 m depth score 10
One of the absolute most beautiful dive sites ever! Barrel sponges and the soft coral huge Again, this dive offered things I had never seen before, it was pure magic. I felt very small with all these giant corals. We also saw some big morays, Sweet lips, Scorpion fish, Groupers and etc.
Dive 6 Night dive in Neira Island, Banda Jetty 15 m depth Score 8
Muck dive, lot of rubbish on the bottom, popcorn shrimps, crabs, boxer shrimps, nudibranch, pufferfish, boxer fish, pipe fish and moray eel, seahorses, etc
The next day we started with land visits to see a nutmeg planation, the historic fort and a small maritime museum. It was a really nice tour and the views we hade from the fort over the Neira Volcano, city (population ca 18,000) and the bay, were just magnificent!
Here we are Juan, Julieta, Ruth, Guillermo, Flo, Dan, Karl, Sophie , me, Leonad, Manuel and Afik
After that we bought some food and snacks in the city and we were also at the fish market. That on the other was quite a sad experience. They are selling tuna fish that was just 40 cm which means that they are taking up the Tunas before they are big enough to multiply themselves. Whilst of course they must eat, we must also find a way to limit how small fish we can take up otherwise there will be no more fish,,,,
Dive 7-9 Banda Neira, Batu Kapal 30 m depth score 9
This is a small island just out side of Banda three pillars underwater with some current though no so bad. We were there to try to see Hammerheads, but we did not see any this time. I wonder if it was too warm in the water? Nevertheless, we saw the biggest Humper head ever. He was around 2 metres long, he was huge. We also saw Morey eel, clownfish, beautiful Gorgonians, Grouper, Emperor, Snapper etc.
After the dive it was time again to move the boat. This time we headed to Koon Island and again we made the trip during the night, with the Captain and his crew ensuring we got there safely whilst the rest of us were sleeping.
On the way out to the island, we saw dolphins, Swordfish, and a jumping Shark.
Dive 10-12 Koon Island, Koon slope, a wall dive at 30 m with some current, score almost 10
We were diving on a sloping coral wall with some current. We saw sharks, eagle rays, big Tuna, Napoleon, Turtles, school of Barracudas, lots of different Groupers, Leaf fish, Mantis shrimps, school of Batfish, corals goby, different Boxfish, well there was nearly too much to describe it all JAnd amazing and beautiful corals. It was fantastic, this dive site has it all.
Personally, I had one problem here, a rather big problem in fact ;-), the fish here is not use to have any divers here. Consequently they were very shy.
In places like this, where there are maybe just a few divers a year, we are especially privileged and honoured to be diving here. I'm so glad to be one of the divers how have been here.
And I'm glad for the fish to have a place they can be alone, no fishing, no dynamite fishing, if I was a fish I would live here ?
For some of my photos, I need to be very close to the object, like with my 8-15 fisheye lens. When I use that I want to be at most half a meter from the object to get a really good photo. Because of the reasons above, that was a bit challenging. As soon as I switched on my focus lamp on my camera the fish was gone and when I used my strobes all fish around me just disappeared. Oh well.
Dive 12-13 Nusa Laut, Ameth slope/wall score 9
This day we hase amazing visibility, more than 30 m., We saw a thresher shark on this dive and our dive guide Flo told us after the dive that was first time they have seen any thresher in this water. We also saw turtles, Triggerfish, lobster, ect.
Fish that we saw or could have seen on this trip are:
Red-tooth Tigger fish, dogtooth tuna, napoleon wrasse, cenderawasih longnose butterflyfish (only Banda and Papua), longfin bannerfish, meyer`s and ornate butterflyfish, emperor angelfish, longfin spadefish, golden spadefish, humpback snapper, Bengal snapper, red snapper, midnight snapper, Black snapper, coral breams, longface snapper, orange spotted trevally, bluefin trevally, black jack, bigeye trevally, giant trevally, yellowtail amber jack, rainbow barracuda, yellowtail barracuda, double lined mackerel, Spanish needlefish, blue and yellow fusilier, anthias, peacock grouper, coral grouper, netfin grouper, Malabar grouper, marblend grouper, barramundi, dwarf hawfish, oriental sweetlips, diagonal banded sweetlips, striped sweetlips, giant sweetlips, many spotted sweetlips, ribbon sweetlips, bumphead parrotfish, Yellowtail coris, clown cotis, humphead wrasse, irian jaya fairy wrasse, blue fire dartfish(only spotted in Banda), crocodile fish, hammerhead sharks, gray sharks, silvertip sharks, leopard shark, whitetip reef shark, blacktip reef shark, boxfish, cowfish, pufferfish, scrawled filefish, titan triggerfish, toby, burrfish, seahorses, different of morey eel, lot of different nudibranch, pygme seahorses do just about everything and then some more.
At the end I want to give a big thanks to Captain Meidy hwo took us home safe and sound and of cause to his crew Budhi, Dadang, Aan,Akram.
And also to the very impotent person hwo made all amazing food on board under this trip, Agus and to his help Li, Ditar and dive guide Afik.
And least but not last to my dear friends Sophie & Flo who guided us to these amazing dive sites and who ensure we are well looked after as guests on board the boat and with Emperor Divers.